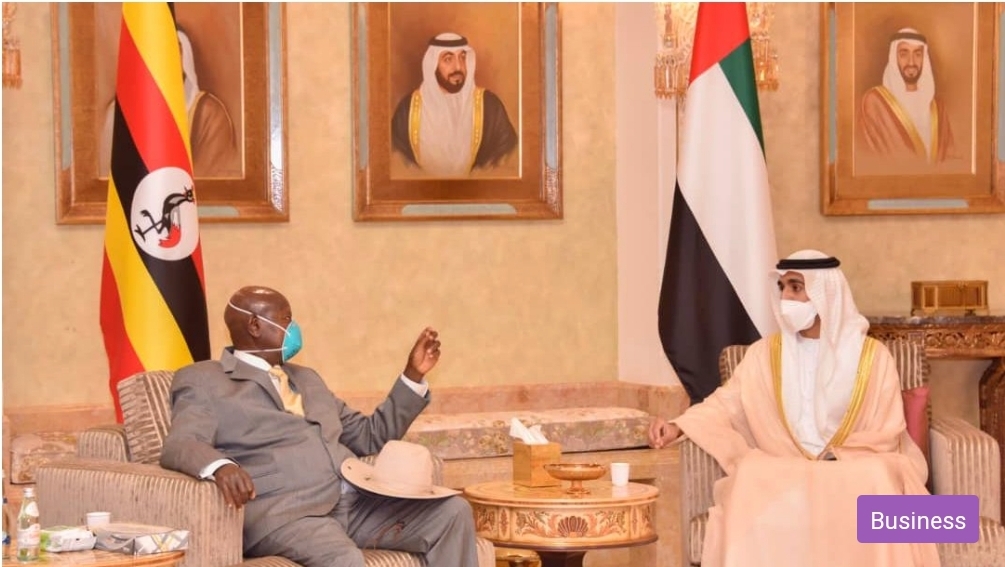 His Highness Sheikh Mohamed bin Zayed bin Sultan Al Nahyan, the Crown Prince of the Emirate of Abudhabi and Deputy Supreme Commander of the United Arab Emirates Forces and Ruler of Abu Dhabi, has agreed to visit Uganda.
"President Museveni has invited Sheikh Mohamed bin Zayed bin Sultan Al Nahyan to come and visit Uganda and the invitation was accepted," said Uganda's State House this Sunday evening.
"The Crown Prince will be visiting Uganda in January 2022," the statement added.
Museveni invited Sheikh Al Nahyan during a meeting he held with the Crown Prince on Saturday evening at the Crown Prince's Al Meena Palace in Abu Dhabi, United Arab Emirates.
The meeting was attended by Uganda's Minister of Foreign Affairs Gen. Jeje Odong and his Finance Planning and Economic Development counterpart, Hon. Matia Kasaija.
The Crown Prince welcomed President Museveni to Abu Dhabi, UAE and said that the President's visit was a great opportunity for him to benefit from his experience, knowledge of security and country building.
"You are welcome, Your Excellency, to Abu Dhabi. Now that you are here, I am going to benefit from your leadership experience and knowledge especially on security issues, " said Sheikh Mohamed bin Zayed bin Sultan Al Nahyan.
Uganda has played a key role in stabilisation of the region including deployment of troops in South Sudan and Somalia.
The Crown Prince commended President Museveni's Contribution to peace building in the region and pledged to work with him in this effort.
"My Government is willing to work together with Uganda for a peaceful region," he said.
Investment
On the side of investment, The Crown Prince directed his Minister of Foreign Affairs and International cooperation, Sheikh Abdullah bin Zayed who was in attendance to lead a delegation of high profile business people to Uganda for investment opportunities.
On his part, President Museveni thanked his counterpart for the warm reception for him and his delegation and invited him to visit Uganda which the Crown Prince accepted.
"I am very happy to meet you, and to visit UAE and Abu Dhabi," said President Museveni.
Museveni briefed the Crown Prince the four major investment sectors that the UAE can interest themselves in including the production of steel, fertilizers, energy and Agro-processing.
The President said that Uganda has got good iron ore but still uses the reconciled steel that is not good for strong steel.
"When we try to get strong steel, it comes from very far in China which is expensive because of the distance. We therefore want to develop a steel industry using our iron ore," he said.
Uganda plans to import gas from Tanzania for iron smelting in Kabale, South western Uganda,
The President said with the peace in the country, good infrastructure and the available market, Uganda is a good destination for investment.
Born in March 11, 1961, Sheikh Mohamed bin Zayed played an active role, participating in the development of the emirate of Abu Dhabi for more than three decades where it witnessed a rapid economic and social transformation.
His Highness is known, and for a long time, to be the directing force behind many initiatives that contributed into supporting and enforcing the security of the emirate of Abu Dhabi, and motivate its economic growth and diversity.The Crown Prince, who graduated from The Royal Military Academy Sandhurst in 1979, is an active member of the Supreme Petroleum Council, which covers oil and energy sectors.
The meeting was attended by the UAE Ambassador to Uganda Amb. Abdulla Alshamsi, Uganda's Ambassador to UAE, Amb. Zaake Kibedi among others.