2019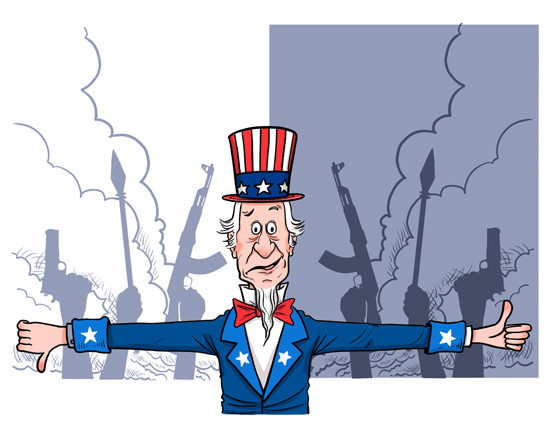 Editor's Note: China's international counter-terrorism research team published a report on Thursday revealing the United States' double standard in the fight against terrorism and how it has caused humanitarian disasters the world over. Following is the full text of the report:
Terrorism is the common enemy of human society and has become the most serious security threat to all countries.
Terrorism and extremism have spread across the world, causing major disasters. Rough estimates show there were 1,127 terrorist attacks worldwide in 2018 alone, in which more than 13,000 people were killed.
The terrorist groups once active in the Middle East had recruited about 250,000 people from more than 100 countries around the world. After those terrorist outfits were defeated or disintegrated, the remaining terrorists have fled the areas of conflict and crossed into other countries, and now pose a serious threat to Middle East states, and other countries. Given that no country is immune from the threat of terrorism and extremism, uniting to fight terrorism is not only a necessity for but also the responsibility of the international community.
With the goal of devising a strategy to combat terrorism through cooperation among all countries and building a united international counter-terrorism front, the United Nations has formulated a series of legal documents, including the UN Global Counter-Terrorism Strategy, with the aim to stop terrorist activities. These documents provide an important international legal basis for countries to conduct counter-terrorism operations.
Serious threat to global peace and security
The UN Global Counter-Terrorism Strategy emphasizes that member states "consistently, unequivocally and strongly condemn terrorism in all its forms and manifestations, committed by whomever, wherever and for whatever purposes, as it constitutes one of the most serious threats to international peace and security". The document also says implementation measures should be formulated based on the four pillars of eradicating the conditions conducive to the spread of terrorism, preventing and combating terrorism, building states' capacity and strengthening the UN's role to fight terrorism, and respecting human rights and the rule of law in the fight against terrorism.
In recent years, the global campaign against terrorism has made important achievements, but the world is far from winning the final victory. The real threat posed by terrorists has not been effectively eliminated; in fact, it is gaining momentum in quite a few regions.
According to available data, the number of armed violence and other terrorist activities increased from 18,987 in 2015 to 24,202 in 2016, up 25 percent year-on-year and a tenfold increase from a decade ago. The international community has recognized that relying on the use of forceful counterterrorism measures alone is not enough to prevent the spread of terrorism, so a comprehensive approach should be adopted, including some "soft" preventative means, to eliminate terrorism and extremism.
The role of preventative work should be given full play in the fight against terrorism, by making continuous efforts to eliminate the factors that breed terrorism, such as poverty, lack of proper education and unemployment, in order to root out terrorism while respecting human rights and rule of law.
'War on terror' cannot be won using duplicity
The fundamental reason why it is so difficult to achieve the final victory in the global fight against terrorism is that some countries use double standard when it comes to combating terrorism. They use anti-terrorism measures as a political tool to serve their own interests and as an excuse to interfere in other countries' internal affairs.
These countries' double standard is mainly manifested in two aspects. First, such countries' criteria to identify terrorist outfits and combat terrorism are based on their self-interests. They often use less-considerate means to judge whether an outfit is a terrorist organization, and even provide shelter and support for terrorists from some countries and regions. And second, they criticize other countries' anti-terrorism measures, and stretch their long-arm of so-called domestic jurisdiction to interfere in other countries' internal affairs on the pretext of "protecting human rights" and "religious freedom".
Also, in the name of fighting terrorism, a certain country has conducted mass surveillance on its own people, and used lame excuses to justify the humanitarian disasters it has caused in other countries by indiscriminately killing innocent people and persecuting religious groups, thereby creating the soil that breeds terrorism.
US policies guided by Cold War mentality
Since the Sept 11, 2001, attacks, terrorists have caused huge harm to societies across the world. Many therefore expected the United States to work with the international community to condemn and combat terrorism in all its forms, and strengthen the global cooperation in the fight against terrorism. But given its Cold War mentality and hegemonic practice, the US has used double standard in its fight against terrorism, demonstrating bias not only in identifying terrorist groups and fighting terrorists, but also adopting an ambiguous approach toward terrorists operating in some countries and even acting as their behind-the-scene commander and largest financial supporter.
Instead of taking an objective stance and condemning terrorist attacks in countries that are not its allies, the US has been criticizing their counter-terrorism measures, and human rights and religious freedom records to give them a bad name. And instead of repenting for the humanitarian disasters it has caused through its "war on terror" and its blatant abuse of international law to spy on people both in the US and abroad, the US, drunk on its power, has always projected itself as the "protector of democracy" and "defender of human rights".
Rampant criminal acts of 'East Turkestan' terrorists
At the beginning of this century, some fanatical separatists and religious extremists in the Xinjiang Uygur autonomous region fabricated a set of "ideological and theoretical system" seeking "independence of East Turkestan", and further politicized the term "East Turkestan". Which led to the formation of an extremist force in Xinjiang under the banner of the "East Turkestan Islamic Movement". For a long time, the ETIM had been engaged in separatist activities thanks in no small part to the encouragement and support from some outside forces. The "East Turkestan" terrorists killed innocent people, attacked government facilities and police officers, and destroyed public property in an attempt to split the country and establish an "East Turkestan" state.
Since the late 1990s, the "East Turkestan" forces at home and abroad have indiscriminately used violence to propel their separatist activities and draw the attention of the rest of the world.
But in recent years, these separatists have been trying to whitewash their heinous crimes by changing their tactics and indulging in anti-China activities in the name of safeguarding "democracy", "human rights" and "freedom". In 2004, the "East Turkestan" forces even cobbled together the "World Uyghur Congress" outside China, where they placed their secessionist proposal.
Rebiya Kadeer, former "chairman" of WUC, has been indicted by China's judiciary for tax evasion and undermining State security, and Dolqun Isa, its current "chairman", has been declared a terrorist by the Chinese government. Isa, in fact, was once the subject of an Interpol red notice. Using human rights and religious freedom as cover, the ETIM disseminated extremist doctrines, fuelled ethnic hatred, and incited terrorists to carry out attacks against Chinese facilities and nationals outside China.
US supports separatist forces in Xinjiang
The ETIM forces were behind the deadly July 5, 2009, incident in Urumqi, capital of Xinjiang. The ETIM doesn't enjoy any support among the people in Xinjiang and can only pander to anti-China forces outside the country, though it can engage in anti-China activities in the US at will.
For a long time, the US administration has been offering both covert and overt support to separatist forces in Xinjiang. It allowed them to hold WUC activities, and has made every effort to promote Kadeer as a "human rights fighter" and is striving to get her some awards.
Some US politicians have even met Kadeer and Isa, and expressed their concern over the "human rights conditions of Uyghurs". Also, the US administration has covertly supported some NGOs such as the National Endowment for Democracy to provide funding for the WUC, and called upon scholars from think tanks to conduct research on the so-called Xinjiang issue, so as to give the separatists advice on how to manipulate the WUC to contain China.
US tried to free ETIM terrorists
The ETIM is one of the most dangerous terrorist organizations in the world. It was designated a terrorist organization by the UN Security Council on Sept 11, 2002. The same year, the US state and treasury departments added the ETIM to their list of terrorist organizations with close ties with al-Qaida. Yet when it came to dealing with "East Turkestan" terrorists, the US described a group of suspected ETIM terrorists from Xinjiang captured during the war in Afghanistan as "non-combatants" and tried to free them.
Since 2006, the US has transferred some terrorist suspects to different countries. In 2008, the Washington rejected Beijing's request to repatriate 17 ETIM terrorists from the Guantanamo Bay detention camp to China. In 2009, the US handed over four ETIM terrorists to Bermuda (a British Overseas Territory) disregarding China's objections. And in 2014, it handed over to Slovakia three ETIM terrorist suspects held at Guantanamo.
Indifferent to terrorist attacks in China
On June 26, 2013, a group of 17 terrorists attacked the local police station and government office in Shanshan county, Xinjiang, vandalized shops and other establishments, and slashed police officers and innocent people with knives. The death toll in the mayhem was 24. And what did the US that claims to be the leader in the fight against terrorism do? It called the terrorist attack "the beginning of China's democracy movement". In his remarks, a spokesperson for the US State Department even criticized China's ethnic and religious policies.
On Oct 28, 2013, three terrorists carrying 31 barrels of gasoline, 20 cigarette lighters, five knives and many other weapons drove a jeep into the sidewalk on the east side of Tiananmen Square in Beijing, rammed tourists and pedestrians and set the gasoline on fire, killing two people and injuring more than 40. Still, the US refused to call the incident a terrorist attack, with CNN even expressing sympathy for the terrorists.
In its 2013 national counter-terrorism report, the US State Department said the Chinese government had not provided detailed evidence for verification of terrorists and terrorist outfits by third parties, which is important because different countries have different views on terrorism.
And on March 1, 2014, a group of masked thugs slashed innocent people at a railway station in Kunming, capital of Yunnan province, killing 31 people and injuring 141. It was one of the bloodiest terrorist attacks in China. Yet in its official micro blog, the US embassy in China described it as an "act of violence" and dismissed the killings as "senseless". Two days after China expressed serious displeasure, a US government spokesman acknowledged the attack as an "act of terror".
US shelters terrorists from some regions
In 2005, Luis Posada Carriles, a terrorist who was behind the bombing of a Cuban civil aviation plane and an explosion in a tourist hotel in Havana, which killed more than 70 people, and made an assassination attempt on Cuban leader Fidel Castro, sneaked into the US.
The Venezuelan government sent a note to the US administration requesting that Posada Carriles be arrested and extradited to Venezuela in accordance with the bilateral extradition treaty. The Cuban government, too, urged the US to bring Posada Carriles to justice. In response to these legitimate demands, the US authorities first refused to comment, then denied having any knowledge about Posada Carriles's whereabouts, and even said that reports saying he was hiding in the US were "fabricated". But Posada Carriles's lawyer confirmed that he was hiding in Florida and had applied to the US government for political asylum.
Besides, in 2014, Syrian Deputy Prime Minister and Foreign Minister Walid Al-Moualem publicly accused the US of adopting double standard in the fight against terrorism, saying Washington was providing funds, weapons and training for so-called moderate Syrian groups, which would encourage violence and terrorism, prolong the Syrian crisis and undermine the basis for a political solution.
US violates the basic rights of the people
According to The Guardian and The Washington Post, the US National Security Agency and the Federal Bureau of Investigation devised a secret program codenamed "PRISM" to "fight terrorism" in 2007, by directly accessing the central servers of nine US internet companies, and mining data to gather intelligence. Microsoft, Yahoo, Google and Apple were among the nine companies that participated in the highly classified project, which has never been made public. By accessing the central server of an internet company, intelligence analysts can get direct access to users' audio, video, cable and connection details, and track all their moves and those of their contacts, which is a serious violation of people's right to privacy.
In 2017, the US issued an executive order aimed at preventing citizens of Iraq, Syria, Iran, Sudan, Somalia, Yemen and Libya, all Muslim majority states, from entering the US. Many media outlets and civil groups called the order the US' "entry ban on Muslims". Washington's practice of linking terrorism to some specific countries, regions and religious groups has provoked opposition from people and groups both in and outside the US.
Washington has created grave humanitarian disasters
On Oct 7, 2001, the US launched the "war on terror", by leading NATO forces to invade Afghanistan. The US-led war against Afghanistan in the name of combating terrorism has resulted in 18 years of chaos and turbulence. Close to two decades of war has left the Afghan people impoverished, with 54.1 percent of them living below the poverty line.
According to a UN report, nearly 4,000 Afghan civilians were killed in various conflicts in 2018, the highest death toll in a year since 2009, with about 24 percent of the casualties attributed to military air strikes launched by the US and other NATO member states. In 2018 alone, the US military conducted more than 6,800 air strikes in Afghanistan, the most in the past six years. The situation in Afghanistan has deteriorated this year, and peace is still far away for the Afghan people.
In 2003, the US unilaterally invaded Iraq on trumped-up charges that the then Iraqi leader Saddam Hussein possessed "weapons of mass destruction" and covertly supports terrorism. The US wars against Afghanistan and Iraq in the name of combating terrorism have left tens of thousands of civilians dead and millions of others homeless. Researchers at Brown University in the US say that since the launch of the "war on terror", the US military has caused 480,000 deaths.
Continuous creation of new terrorist forces
The US has always used double standard in the fight against terrorism. It has launched military strikes against countries that "don't fall in line". On the other hand, it connives with and secretly supports terrorists in certain countries.
After 9/11, al-Qaeda leader Osama bin Laden became the US' No 1 enemy in the "war on terror". Ironically, the US had a role to play in the formation of al-Qaeda during the end of the Cold War. That the Islamic State grew rapidly in Syria and Iraq can also be attributed to the US' hegemonic foreign policy of invading Iraq and triggering the Syrian civil war, which has changed the political landscape of the Middle East and created nothing but human suffering, which in turn has given birth to new terrorist outfits such as the Islamic State group.
Indiscriminate attacks in cities and killing innocent people are tactics used by terrorist outfits to recruit new members in order to unleash more violence. And by conniving with certain terrorist forces, the US is encouraging the terrorists to unleash more violence on innocent people.
The bloody attacks and the loss of innumerable lives are a reminder that terrorism is the common enemy of humanity. It should be dealt with resolutely and without using any double standard. The use of double standard to identify terrorist organizations or fight terrorism will only lead to self-shackling and bring great harm to the international community.